VETERINARIAN SURGEON, UK Clinic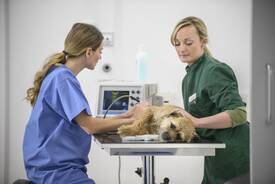 Our animal veterinary practices located all over England are expanding and we want you to join our team!
We are looking for both newly graduated and experienced veterinarians who have a desire to offer the best possible patient care, are confident in a client-facing role, and have good communication skills. If this sounds like you, and you're willing to move to the UK within the next four months, we'd love to have you on board.
Why you are a good fit
University bachelor's degree in veterinary science, medicine, or surgery from one of the EAEVE approved universities, are eligible to register with the Royal College of Veterinary Surgeons (RCVS).
English with a B2 level or are working towards it (IELTS certificate with 7.0)
Willing to move to the UK
The offer waiting for you
Competitive salary ranging from £40,000 to £75,000 per annum depending on your level of experience
Relocation support of up to £5,000
Visa application and sponsorship fully paid for by us
Continued Professional Development (CPD) allowance of £1,250 plus five days paid study time per year
English lessons up to £2000 to prepare for the IELTS test which is mandatory to work in the UK
6 weeks annual leave and an increased holiday allowance based on your length of service
Flexible working arrangements
Your birthday as an extra paid day off
Private medical insurance
All our vets and nurses can apply for research funding
All our vets get £1000 per annum to spend on a patient via our Care Fund program
BVA membership, VDS insurance cover, and RCVS fees all paid for
επιστροφή