Veterinarian for Experimental Surgery (m/f/d)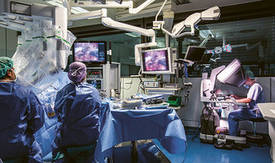 The Center for Experimental Models and Transgenic Services (CEMT-FR), Medical Center - University of Freiburg invites applications for a full time position. CEMT-FR is a research as well as a service department with about 70 members of staff responsible for laboratory animal activities at the University as well as the Medical Center.

Duties will include:
· Veterinary care of pigs, sheep and rabbits
· Performance of anesthesia and surgery, as well as perioperative veterinary care and pain therapy in connection with experimental studies in the respective species
· Consultancy and support of scientific working groups in the design of experiments, preparation of applications for animal experiments, performance of experiments, data evaluation and publication
· Instructing and guiding of veterinary and technical staff
· Work organization, documentation and quality management
· Management of veterinary dispensary
· Participation in basic and advanced training
Applicants must possess a DVM degree or equivalent. Practical experience in the veterinary care of pigs, sheep and rabbits is required. The ideal candidate is qualified according to Function B article 23 of the European Directive 2010/63. A high level of motivation and sense of responsibility is essential as well as a pro-active and self-reliant mode of operation.
The position offers opportunities such as:
· Substantiated and structured job training
· Professional and personal development by continuing education
· Qualification as Board Certified Specialist for Laboratory Animals Science
· Opportunity for scientific activity
· Family-friendly workplace in an sought after region and offers for childcare
Professional rank and salary will be commensurate with the candidate's qualifications and experience
More info:
cemt.info@uniklinik-freiburg.de
Salario bruto anual, aproximadamente 45000 Eu
Idioma: ingles
Universidad de Freiburg, Alemania
Uniklinikum Freiburg
CEMT- exp. Surgery
Breisacherstr. 66
79106 Freiburg
cemt.info@uniklinik-freiburg.de
UNIVERSITÄTSKLINIKUM FREIBURG
CEMT-Freiburg; Experimentelle Chirurgie
Breisacher Str. 66
D-79106 Freiburg
Dr. med. vet. Heidi R.CRISTINA SCHMITZ
Fachtierärztin / Stellvertretende Bereichsleitung
Telefon: +49 761 270-52760
Telefax: +49 761 270-54020
Sucher 5356
Teilzeit (Montag- Donnerstag)
heidi.cristina.schmitz@uniklinik-freiburg.de
επιστροφή